Jun
---
2018
Unloved opportunities for the patient UK investor
DIY Investor
28 June 2018
Despite the recent share price rally, UK equities are the most unloved they have been for some considerable time, says Richard Buxton, head of UK equities and manager of the Old Mutual UK Alpha Fund.
I have to admit to feeling a little down of late… and with good reason. My particular asset class, the UK All Companies Sector, has seen persistent outflows of money for the last four calendar years, a trend that has continued into the first quarter of 20181. Against this background, recent news that according to a well-known global fund manager survey, global investors have never held such an underweight position in UK equities comes as little surprise to this investor.
The question is why?
It may be the impression that the UK economy is set to be one of the slowest growing now that Europe is recovering and the United States is benefiting from fiscal stimulus. It may be a concern that the UK will suffer materially post-Brexit, or the probability that at some point Britain votes in a redistributive and anti-business government set to raise corporate tax rates.
Or, more constructively, it may be that domestic investors are at last recognising the degree to which they are under-exposed to US equities, a significant part of the MSCI World index, and addressing this in part through investing more in global equities.
But whatever the reason, it is clear that UK large cap stocks are pretty unloved right now.
It is interesting, though, to note that this view appears to be at odds with the attractions that numerous corporates and activists can see in some UK shares.
At the time of writing, there are two bidders battling to win control of Sky, whilst Shire has just agreed a combination with Japan's Takeda Pharmaceutical. Midcap engineer Fenner has agreed to be bought by France's Michelin.
Meanwhile, activist investors have appeared on the share register of no fewer than three stocks I hold: Barclays, Micro Focus and Whitbread. These multi-million pound investments have not been undertaken lightly and point to significant undervaluation of these companies in the eyes of the activists.
Despite the fact that the current bull market may be nine years old, it has certainly not reached extremes of valuation, in my view. With the FTSE All-Share index trading below its long-term average, at a little over 13 times forecast price/earnings multiple and a yield in excess of 4%, this would hardly suggest that any buying frenzy on the part of investors is at a peak2.
It is true that the scale of M&A activity globally is reaching levels that have the contrarian investor feeling nervous. Let's not forget it is when confidence and share prices are high that the siren voices of investment banking advisors become irresistible to many boardrooms and deals are typically done.
So a note of caution from the flurry of deal-making currently underway, but with an eye firmly on valuations the ground seems reasonably sound underfoot.
Investors often shun UK large cap stocks as they perceive that mature, low growth companies or industries such as banking or commodities can only offer low returns.
But whilst there may be an element of truth to this, fortunately, even in very large companies, the stockmarket can let share prices fall far away from the intrinsic value, or actual worth, of a business. You need to be patient and play a long game, but this does allow the investor to make considerable gains even in very large companies.
Let me illustrate this by way of a stock example. The chart below shows the long-term price of Tesco. Some investors may know I sold my holding in May 2010 at 425p, concerned over the group's expansion into the US. Several profit warnings, an accounting scandal, withdrawal from the US and a change of management later, I started to buy them back in 2015.
New management fully expected to take five years turning the business around. The market was persistently sceptical, enabling me to add to the holding as recently as a year ago at 178p3. And it is only now, into the fourth year of their tenure, that the market appears to believe that they can actually reach their goals, judging by the reaction to the most recent set of results.
So UK economic growth may be subdued, but UK equity valuations are not stretched and I for one believe that the stock market will continue to provide opportunities for the patient investor, even in UK large cap stocks.
1 Source: Morningstar, calendar years 2014 to 2017 and Q1 2018.
2 Source: Bloomberg, 12 month rolling forecasts for end December 2018.
3 Source: Bloomberg as at 27 April 2017.
For Richard Buxton's latest views on why UK equities remain so unloved, click on the link below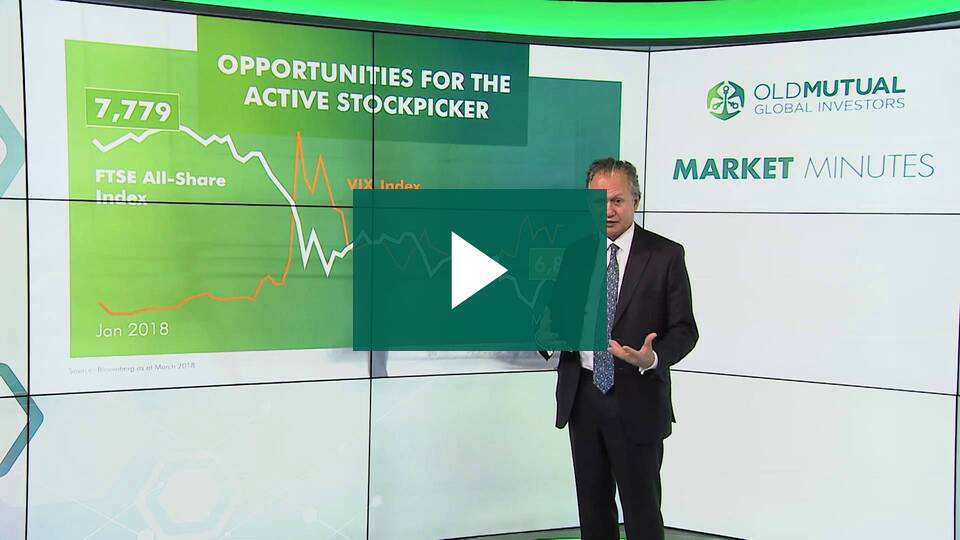 Please remember that past performance is not a guide to future performance. The value of investments and the income from them can go down as well as up and investors may not get back the amount originally invested. Exchange rates may cause the value of overseas investments to rise or fall.
This communication is issued by Old Mutual Global Investors (UK) Limited. Old Mutual Global Investors (UK) Limited is the appointed investment adviser for Old Mutual Investment Management Limited's in-house funds. Old Mutual Global Investors is the trading name of Old Mutual Global Investors (UK) Limited and Old Mutual Investment Management Limited. Old Mutual Investment Management Limited, Millennium Bridge House, 2 Lambeth Hill, London EC4V 4AJ. Authorised and regulated by the Financial Conduct Authority. FRN: 208543. Old Mutual Global Investors (UK) Limited, Millennium Bridge House, 2 Lambeth Hill, London EC4P 4AJ. Authorised and regulated by the Financial Conduct Authority. FRN:171847. A member of the IA. This communication is for information purposes only and does not constitute a financial promotion (as defined in the Financial Services and Markets Act 2000) or other financial, professional or investment advice in any way. Nothing in this document constitutes a recommendation suitable or appropriate to a recipient's individual circumstances or otherwise constitutes a personal recommendation. It is distributed solely for information purposes, it does not constitute an advertisement and is not to be construed as a solicitation or an offer to buy or sell any securities or related financial instruments in any jurisdiction. No representation or warranty, either expressed or implied, is provided in relation to the accuracy, completeness or reliability of the information contained herein, nor is it intended to be a complete statement or summary of the securities, markets or developments referred to in the document. Any opinions expressed in this document are subject to change without notice and may differ or be contrary to opinions expressed by other business areas or groups of Old Mutual Global Investors as a result of using different assumptions and criteria. OMGI 05_18_0098.
Leave a Reply
You must be logged in to post a comment.